Precision stainless steel coil
Short Description:
General stainless steel with thickness between 0.01-1.5mm, strength between 600-2100N / mm2 and heat-resistant cold-rolled stainless steel are defined as high-strength precision stainless steel. The error around 5um or even lower of precision stainless steel plate in the manufacturing process is much smaller than that of ordinary sheet. 
Product Detail
Product Tags
Product Detail
 Sino Stainless Steel Capacity about Precision stainless steel coil
Finish: 2B,BA,TR
TEMPER/Hardness:  ANN, 1/2, 3/4, FH/Full hard, EH,SEH/Super EH
Thickness: 0.03mm – 1.5mm
Width: 600mm – 1250mm, the narrowed products pls check in strip products
Max coil weight: 10MT
Coil ID: 400mm, 508mm, 610mm
Grade: 301, 430, 410, 420, 304, 304H, 304L, 305, S316, 316H, 316L, S321, 321H, 332, 334, 409, 439 S30100 , S43000 , S41000 , S42000 , S30400 , S30409 , S30403 , S30500 , S31600 , S31609 , S31603 , S32100 , S32109 , N08800 , S33400 , S40930 , S43035
General Precision stainless steel Equipment description
4 column 20-high rolling mill
Four column 20-roller mill, with advanced AGC thickness automatic control and AFC straightness automatic control. The slant feature of this mill is more conducive to straightness control. The coiler is driven by a double motor, which can precisely control the tension during rolling. It provides a full range of guarantee for rolling high-strength and high-precision strip. The thickness control  accuracy  up to ± 0.001mm, It is one of  the most advanced mill in the world 
All H2 BA Line for precision stainless steel coil
Our bright annealing line is the first full hydrogen vertical muffle annealing furnace in China. Dew point be controled below -55 ℃, full hydrogen protection and precise tension control to ensure the strip surface quality and performance well after annealing
All H2 Bell Type Annealing Furnace
Full hydrogen gas, precise temperature control, effectively eliminate the internal stress and work hardening rolling, to obtain good cold working performance, to ensure the stability of the coil after annealing, providing a powerful guarantee for the production of high-carbon martensite.
Precision stainless steel coil Leveler Equipment
Twenty-three roller straightening machine, the minimum roll diameter is 12mm, a unique process tension control device to effectively improve the strip straightness and mechanical properties, the straightness can up to 1IU.
Longitudinal cutting Equipment
The cut strip minimum width is 3mm, the tolerance is ±0.015mm. The leveler can cut hardening strip whose strength reaches to 2100 N/mm2. Trimming different dimension strips according to customer's requirements.
Burr free and full round edge Equipment
According to customers requirements,  to produce different edge shape of the strip, below is the edge shape, square edges , square with round edges, round edges and other customized edges, to meet different customer needs.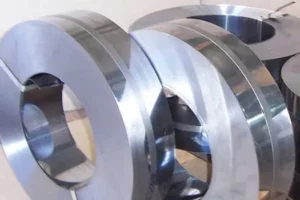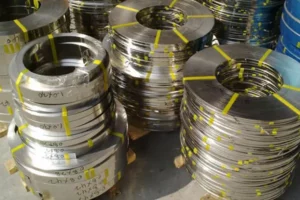 ---
Product Tags