etched stainless steel sheets
Short Description:
Stainless steel etching plate is in the stainless steel surface through the chemical method, corrosion out of a variety of patterns.With 8K mirror plate, wiredrawing plate, sandblasting plate as the bottom plate, after the etching treatment, the surface of the object for further processing, stainless steel etching plate can carry out local and grain, drawing, inset gold, local titanium gold and other complex processing, stainless steel etching plate to achieve the pattern light and dark and colorful effect.
Product Detail
Product Tags
Product Detail
Sino Stainless Steel capacity about Etched Stainless Steel Sheets
Grade: 304 ,201,430,
Thickness: 0.3mm – 4.0mm
Width: 1000/1219/1500mm or customized
Length: 1000 – 6000mm/coil
Film: Double PE/laser PE
General Pattern/Customized:
Stripe partent stainless Steel Opal pattern stainless Steel Oasis pattern stainless Steel
Shadow pattern stainless Steel Network pattern stainless Steel Kaleidoscope pattern stainless Steel
Gems pattern stainless Steel Honeycomb pattern stainless Steel Mirage pattern stainless Steel
Celtic pattern stainless Steel Neurona pattern stainless Steel Daisies pattern stainless Steel
Galaxy pattern stainless Steel Speckle pattern stainless Steel
Simple description about Etched Stainless Steel Sheets
Introduce of etched stainless steel sheets
Decorative metals have been a key preference for luxurious interior designing for years now, and etched stainless steel sheets definitely top the list of favorites. The stunning etched patterns on ever so magnificent stainless steel sheets create an irresistible charm with the promise of longevity. Etched stainless steel sheets thus are great investments for decorating or remodeling any projects; be it a residential or a commercial one.
The fine finish of metal work needs years of experience in the craftsmanship and technology. This is a form of modern art that needs a professional touch. We offer both the experience and expertise with the touch of artistic elegance in our perfectly etched stainless steel sheets. Our designs are one of their kinds, with precise finishing for a fine texture with flawlessly intricate etching around the patterns.
For our company, every etched stainless steel sheet produced by us stands for the excellence in the craft we thrive to achieve. We have a team of experts who make sure only the finest of finishes are maintained. We also specialize in different finishes on the etched stainless steel sheets, including matte, brushed, wavy and mirror. We also offer consultation to our potential clients and patrons to provide them with our suggestions to their plan or project.
Our constant endeavor is to work closely with the vision of our clients to offer them with the etched stainless steel sheet perfect for their dream projects. Be it a wall, a door, a mirror frame, a deluxe office entrance or anything else, we want our clients to have the best of what they are ambitious for; the best of our etched stainless steel sheets. We look at the craft as a professional, an artist and a dreamer, all at once, to create something that may last for ages to come and represent the vision and dedication behind it.
The process of producing etched stainless steel sheets is a story of pure passion and hard work. We take pride in our team of workers who work hours to ensure the highest quality that we guarantee. We work together to give shape to a design that is built to last the test of time, with our etched stainless steel sheets.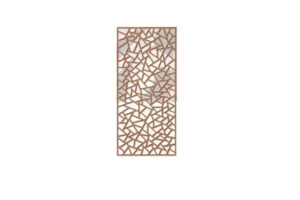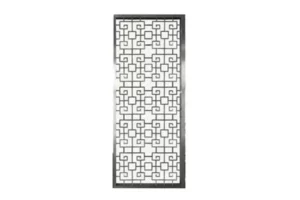 Product Tags