304DQ DDQ Cold Rolled Stainless Steel Coil
Short Description:
304 DQ DDQ material is widely be used as all kinds of stainless steel kitchen wares, DDQ (deep drawing quality) material: refers to the material used for deep drawing (redrawing), which is what we call soft material. The main characteristic of this material is its high elongation (≧53%), hardness Low (≦170%), internal grain grade between 7.0~8.0, excellent deep drawing performance. Many companies that produce thermos and pots generally have higher processing ratios (BLANKING SIZE/product diameter), and their processing ratios are 3.0, 1.96, 2.13, and 1.98, respectively.
Product Detail
Product Tags
Product Detail
Sino Stainless Steel Capacity about 304 DQDDQ cold rolled stainless steel coil, 304 DQ DDQ CRC
Thickness: 0.2mm – 8.0mm
Width: 600mm – 2000mm, the narrowed products pls check in strip products
Max coil weight: 25MT
Coil ID: 508mm,610mm
Finish: 2B,2D
304 DQ DDQ Same grade from different country standard
SUS304DQ SUS304DDQ S30408DQ 06Cr19Ni10DQ 0Cr18Ni9DQ S30400DQ
304DQ DDQ Chemical component ASTM A240 :
C: ≤0.08, Si: ≤0.75  Mn :≤2.0 ,Cr :18.0~20.0 ,Ni :8.0~10.5, S :≤0.03 ,P :≤0.045 N≤0.1
304DQ DDQ mechanical property ASTM A240 :
Tensile strength : > 515 Mpa
Yield Strength : >205 Mpa
Elongation (%): > 53%
Hardness: < HRB92
Description about 304 DQ,DDQ and normal material
SUS304DDQ material is mainly used for these higher processing ratio of the product, of course, the processing ratio of more than 2.0 products generally have to undergo a few passes to complete the stretch. If the raw material extension is not reachable, the product can easily produce cracks and pull-throughs when processing deep-drawing products, affecting the qualification rate of finished products, and of course increasing the cost of the manufacturers.
General materials: Mainly used for materials other than DDQ applications. This material is characterized by relatively low elongation (≧45%), relatively high hardness (≦180HB), and internal grain size grade of 8.0~9.0. Compared with DDQ material, its deep drawing performance is relatively poor. It is mainly used for products that can be obtained without stretching, like spoons, spoons, forks, electrical appliances, and steel pipes for a type of tableware. However, it has an advantage over DDQ materials in that BQ properties are relatively good, mainly due to its slightly higher hardness.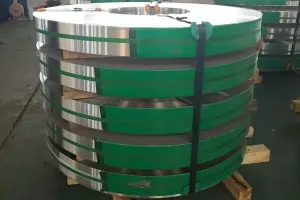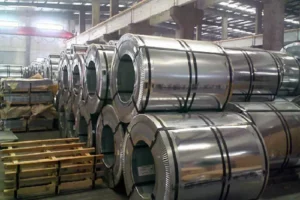 ---
Previous: 316L 316 cold rolled stainless steel coil
Next: 316Ti cold rolled stainless steel coil
Product Tags